The Top 10 Reasons to Install an Automatic Door at Your Business
1. Lots of Choice!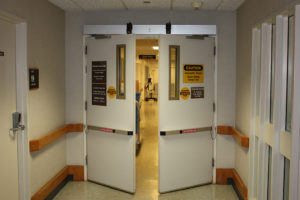 Deciding to install an automatic door doesn't mean that you will have fewer options. There are many different styles, finishes, colours and designs of automatic doors to choose from! With so much selection, it isn't a problem to talk with your service provider to find a style that matches and enhances your existing business location.
The three standard types of automatic doors are:
Automatic swinging doors may come as a single door, or maybe come as a pair. These can be installed in a variety of configurations, such as having both doors swing in the same direction, or having them move in opposite directions. This degree of customization may be a great benefit to controlling the safe and efficient flow of traffic.
Automatic sliding doors consist of flat door panels that slide horizontally and linearly. They can come in a variety of configurations or styles.
Automatic folding doors will come as two or more different panels. One panel will swing, while the other panel slides in and open up the entranceway.
Each type of door will feature sensor or control mats as a means of controlling the opening and closing of the door when a customer approaches. Automatic doors will also include some sort of safety signage, with the necessary safety instructions.
2. Make Your Customers Happy!
People coming to your business will appreciate and value your company's decision to install automatic doors. In fact, surveys prove this. A recent consumer research study conducted by the American Association of Automatic Door Manufacturers revealed that nearly 99% of customers prefer automatic doors over manual doors.
The survey respondents also said that they like to see automatic doors at hospitals, airports, hotels, shopping malls and stores. But it doesn't need to stop there! Many customers appreciate when a business takes the time to install automatic doors even in businesses that don't traditionally use this option.
3. It's Convenient
When a visitor walks up to your door, they may be fumbling with keys, shopping bags or younger children. Having the door whoosh open automatically instead of making that customer rearrange everything to pull open a heavy door demonstrates that your business places a value on the customer's well-being and time.
Besides this, a large volume of traffic in and out of manual doors can cause a backlog. Automatic doors alleviate this problem by intelligently responding to the foot traffic accordingly, giving your customers a convenient means of entering and exiting the premises.
4. Access for Handicapped and Elderly Visitors
Installing automatic doors is a way of showing that you are conscious about everyone who has a desire to visit your business location. Manual doors can actually act as a barrier to disabled or elderly Canadians.
In response to this, there are many rules and regulations that require businesses to properly serve everyone, regardless of physical capabilities. Staying on top of these regulations and showing your business's interest in providing a safe and accommodating environment for everyone goes a long way in establishing your company as friendly and hospitable.
5. First Impressions
It may seem like a subtle and almost inconsequential issue, but your customer's impressions to you and your company begin to be formed right from the moment they enter your property.
Welcoming them to your business with a heavy or awkward door sets you off on the wrong foot, and may even leave a lasting negative impression. You may lead people to believe that your business is not in touch with the common needs and expectations of your customers.
On the other hand, welcoming your visitor with a friendly and convenient automatic door shows that your company cares about each and every person who visits.
6. Easy to Purchase and Maintain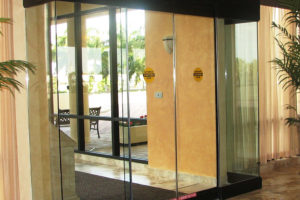 You may be tempted to think that additional moving parts and sensors means that you will need to deal with problems and breakdowns from time to time. In fact, you can be confident that automatic doors installed by a trusted service provider are incredibly easy to maintain.
Your service provider will be able to help you determine the best design of door for your use, based on the location where it will be placed. By working with a service provider who understands the nature of the location, the traffic flow and the expectations for both style and function, then you can be sure that your automatic door will be built to intelligently satisfy all these concerns.
There is plenty of information available, both online and at various retailers, so that you can understand how to get reliable performance out of your automatic door.
7. Great Value
Installing an automatic door provides better value than you'd expect. Once installed, an automatic door has a very long life cycle and comes with low-energy options for a cost-effective solution.
Furthermore, the potential negative impact on your business from customers who are inconvenienced or handicapped visitors who struggle even to gain entry strongly outweighs the cost you pay to install a friendly and suitable automatic door.
Last but not least, proper maintenance and service can help your automatic door last for years.
8. Energy Efficient Automatic Doors
When manual doors are left open accidentally, it can be quite costly for the heating bill in the winter, or it can add some extra wear on the air conditioner in the summer. Automatic doors, on the other hand, only open when they need to be used, preventing unnecessary temperature changes. By installing a model of automatic door with a tight, secure seal, you can conserve energy much more efficiently than you could with a manual door.
There are many other unique solutions to this issue as well, such as using automatic revolving doors in place where there is high-traffic. This can essentially work as an air lock, which controls the area's temperature and reduces energy expenses. Ask your service provider for more information on low energy door models.
9. Safety first!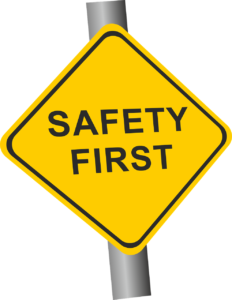 With exceptional sensor technology, automatic doors have an incredible safety record. Even if children are running around, automatic doors remove the worry about them getting injured in a doorway.
Following up the installation of an automatic door with safety and service checks from a certified technician ensures that everything is working properly. A technician will be able to determine whether or not the door complies with the latest industry standards, and can provide recommendations or repairs when necessary.
10. Respected Work from Professional Businesses
By choosing to work with a reliable and professional door installer, you can rest assured that you will be working with a team of service technicians who have your best interests in mind. You get access to professionals who are able to work with your best interests in mind, and who can suggest the best course of action, utilizing a variety of new, top-of-the-line technologies.
We make it our goal to educate you in the value and practicality of automatic doors, so that you get the most out of your investment!