Automatic Doors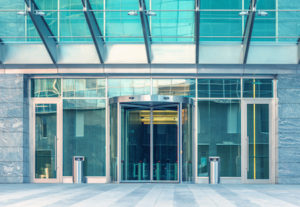 Accessibility opens doors and creates possibilities for everyone! 
Automatic doors are required by building code in most Ontario retail and public buildings as part of the Accessibility for Ontarians with Disabilities Act. In addition to this, consumers overwhelmingly prefer to use automatic doors. A recent AAADM survey found 98.9% of consumers have a decided preference for automatic doors.
Gamble Lock is a leading supplier of automatic doors (also referred to as handicap Door openers, automatic door openers or automated door systems). Our clients include all levels of government, hospitals, schools, colleges and universities, as well as local businesses and industry. We service and install all major brands of automatic doors in Toronto, Newmarket, York Region and the entire GTA. All of our accessible door technicians are certified by AAADM, the American Association of Automatic Door Manufacturers, and regularly attend factory training sessions.
Our team supplies and installs all of the required commercial door hardware and automatic door operators to ensure your building is in full compliance with current accessibility laws. This includes accessible store entrances, automatic swing doors, automatic sliding doors, as well as automated accessible washroom doors. Multiple options for automatic door buttons are available, including both hardwired door activation buttons and wireless door activation buttons.
After the initial decision to install automatic doors has been made, it is important to take steps to guarantee that the ideal type of automatic door is chosen and subsequently maintained in a manner that ensures it will be a trouble-free and valuable asset to the business for many years. Our team will select the correct door operator for your facility and will train you and your staff on its proper operation.
We ship replacement door operators, commercial door hardware and all required door activation buttons nationwide. Automatic door installations and service is available Ontario wide. Please contact our team to book your no cost, no obligation quotation.
Ask about our discount programs for general contractors and interior designers!
Showing all 12 results